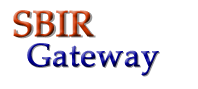 SBIR Insider Newsletter
November 21, 2010

Dear SBIR Insider,
We have a few quick pre-holiday items for you. This issue is mainly to make you aware of the short time lead to participate in the 2011 Tibbetts Awards.
In this issue:
Return Of The SBIR Tibbetts Awards - (Short Time Window Alert)
After a 3 year hiatus, the SBIR Tibbetts Awards Program have been restarted by the Small Business Administration (SBA).

These prestigious awards, named for Roland Tibbetts, (acknowledged as the father of the SBIR), are presented to small businesses and individuals who represent excellence in achieving the mission and goals of the SBIR and STTR programs.

Any individual who owns and operates, or who bears principal responsibility for operating a business that has received an SBIR Phase I and II or an STTR award may be nominated. Self nominations are encouraged.

There is a short time window for nominations. Nominations must be received by the SBA by December 15, 2010 at 5pm est. Complete information is available at: http://www.sba.gov/aboutsba/sbaprograms/sbir/tibbetts/index.html

"Unofficially", the Tibbetts Awards Ceremony will take place in Washington, DC, with a potential date of mid-February, 2011. This is not confirmed, but is a target.

The SBA's Office of Advocacy created the Tibbetts Awards program in the late 1990's but due to extreme SBA budget cuts, the program was suspended in late 2002. The Small Business Technology Council (SBTC) took the reins (with SBA's and Roland Tibbetts' blessing) and revived the Tibbetts Awards program in 2006 and 2007. SBA Administrator (at that time) Steven Preston participated at the event and helped make several award presentations. Hopefully the current administrator, Ms. Karen Mills, will consider doing likewise.

It was always the SBTC's intent to hand the program back to SBA when/if they had the interest/budget to do it. Under the direction of the SBA's Sean Greene, the SBA is back in the saddle running the entire Tibbetts program, for the first time since 2002. Of course, the SBA's Office of Technology (which is responsible for SBIR/STTR and Tibbetts) had about 10 employees back in 2002 and now has half of that. It's a challenging event.
SBA To Start "SBIR Hall Of Fame"

The SBA has announced the creation of an SBIR Hall of Fame program. The SBIR Hall of Fame awards will be made to firms with a long period of extraordinary success of research, innovation, and commercialization within the SBIR program.

Anyone can nominate a company for the SBIR Hall of Fame Award - however, self-nominations are not allowed. Also, a company may not apply for both a Tibbetts and Hall of Fame award in the same year.

The nomination period is now open but will close on December 15, 2010 at 5pm, est.

Complete details are located on the SBA web site at:

http://www.sba.gov/aboutsba/sbaprograms/sbir/halloffame/index.html
Dept. Of Education To Release 2 SBIR Solicitations

The Department of Education's (ED) Institute of Education Sciences (IES) has issued presolicitation announcements for 2 (yes, 2) individual SBIR solicitations to be released on or about December 2, 2010. The closing date is estimated to be January 13, 2011.

Although ED's SBIR program is rather small (compared to DoD and NIH), it has garnered some very impressive success stories, both for advancements in education, and growth for the small businesses.

It is often stated in SBIR circles that one of the main differences between "Contracts" and "Grants" solicitations are that contract topics are very specific while grants are broad based. This is not always the case, as demonstrated by these two broad based "contracts" solicitations from ED:

Solicitation #ED-IES-11-R-0014 has one priority (topic):

Priority 1: Education Technology Products Used by Children, Students, or Teachers (or other Instructional Personnel or Service Providers) in Special Education.

(see: https://www.fbo.gov/?s=opportunity&mode=form&id=89f8c19f6be3f4c296178385731bf49b&tab=core&_cview=0 )

Solicitation #EDIES-11-R-0009 has two priorities:

(see: https://www.fbo.gov/?s=opportunity&mode=form&id=60ef9f4664901460d375833585fd680c&tab=core&_cview=0 )

Priority 1: Education Technology Products Used by Students or Teachers (or other Instructional Personnel)

Priority 2: Education Technology Tools Used by Researchers

Both solicitation's are for "Fast Track" formats only. The term "Fast Track", as used by ED, is a single proposal that contains both Phase I and Phase II activities. ED believes that the Fast-Track option has the potential to minimize any funding gap between the Phase I and Phase II periods.
Oklahoma National SBIR Conference

The state of Oklahoma should be proud of their folk (Sherry Roberts, the Oklahoma Center for the Advancement of Science and Technology [OCAST], and the rest of their state partners) for putting on a fine National SBIR Conference, held November 8-10, 2010 in Oklahoma City. It was a well attended conference with good participation and sessions that ran very smoothly.

This event was the "swan song" for Sherry Roberts, (long time state supporter for SBIR and OCAST) as she will be retiring soon. Ms. Roberts has been a good friend to many of the state SBIR support representatives over the years and she will be missed. OCAST will continue to support the SBIR program through their Small Business Research Assistance (SBRA) program. Information is available at: http://www.ok.gov/ocast/Programs/Small_Business_Research_Assistance_(SBRA)/index.html
The next national SBIR conference will be in Madison Wisconsin, April 11 - 13, 2011. This conference is being spearheaded by another long time state SBIR supporter, Pat Dillon. The conference web site is at: http://www.wisconsinsbir.org/

Wouldn't it be nice if they could get Dr. Winslow Sargeant, SBA's new Chief Counsel for Advocacy (also former NSF SBIR program manager) as a speaker? Wisconsin was his home and he is still close to the SBIR community.
More On The Joint SBIR Solicitation On Robotics

There was quite a brouhaha at the Oklahoma City National SBIR Conference concerning the opinions and presentations about the Joint Agency SBIR Robotics Solicitation. This solicitation is supported by five agencies consisting of the National Institutes of Health (NIH), Defense Advanced Research Projects Agency (DARPA), National Science Foundation (NSF), Department of Agriculture (USDA) and the Department of Homeland Security (DHS).

There were significant criticisms of this offering by the outside community, but several agency SBIR program officials rebuked some of the criticism and went on to explain the inaccuracies that some were claiming.

Whatever the case, some SBIR Insiders hinted that this project may have been unnecessarily rushed to fruition and therefor was not adequately explained, which contributed to a great deal of the misunderstanding.

Indeed, there were some excellent points raised as to the advantages of this solicitation. Among those given was that it created an expedited funding opportunity for a critical technological area that may have been difficult to incorporate in solicitations from agencies such as USDA and DHS.

On the other hand, with a closing date of December 20, 2010 and a declared (in the FOA) "earliest starting date" of September 2011, could one actually call this expeditious? Nevertheless the intent is well meaning and the opportunities are important.

The solicitation can be found at:
http://grants.nih.gov/grants/guide/pa-files/PAR-10-279.html
This is an SBIR Insider FREE OF POLITICS! You deserve an "after the election" break, albeit a brief one. Congress will meet after the Thanksgiving holiday with much on their plate and only a short time to complete. We'll outline some of the probabilities in our next issue.
Here's wishing you all a joyous Holiday!
Sincerely,

Rick

Rick Shindell
SBIR Gateway
Zyn Systems
40 Alderwood Dr.
Sequim, WA 98382
360-681-4123
[email protected]
www.zyn.com/sbir


Do you want to be an SBIR Insider and receive Zyn's SBIR Gateway Insider Newsletter? It's free and we will not spam or share your email address with anyone.
Email addresses will remain private and will not be shared.