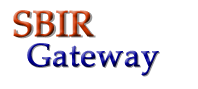 SBIR Gateway Guest Editorial
VCs & Biotech Lobbyists Push for
Last Minute SBIR Legislation Change

Attempt to Avoid Public Hearings
September 19, 2004
Guest Editorial by Dr. Chris W. Busch
Dr. Chris Busch offers his views from the unique perspective of having owned a small business that won many SBIR awards, selling his business to a large entity, giving testimony to congress on SBIR, functioning as an advisor and evaluator for agency SBIR proposals, as well as being a pioneer in SBIR rural outreach
Dr. Chris W. Busch
3100 Lost Creek Lane
Ronan, MT 59864
Venture capital and biotechnology special interest groups are pushing to get Senate Bill S.2384 and the essentially identical House Bill H.R.4149 pushed through congress before the end of the current session. These bills will be relatively small riders on much larger SBA reauthorization bills. In the waning days of the 108th congress, these legislative actions will have high momentum, and there is a high likelihood they will be passed by unanimous consent. S.2384 and H.R.4149 are bad for the SBIR Program, and bad for small businesses. We need to rally opposition to them from the small business community at this eleventh hour.
S.2384 and H.R.4149 aim to provide access to SBIR resources for businesses that are owned and/or controlled by venture capital and other investment groups. In most cases, these groups will not be small businesses as defined by SBA for the SBIR Program. If this comes to pass, legitimate small businesses potentially will be forced to compete for precious SBIR funds against entities owned by large businesses (e.g., venture capital firms) with well-honed marketing and presentation skills. Hence, resources specifically set aside for small businesses may be channeled to large businesses. This is a serious breech of the spirit and letter of the SBIR Program, and poses a serious threat to its future integrity and stability.
Particularly troubling about the movement to push S.2384 and H.R.4149 through congress in this session is that congress has held no hearings or opportunities for public comment on the proposed legislation. Hence, comments have not been heard from rank and file small businesses and SBIR competitors. This is in sharp contrast to the procedure followed by congress in the period leading up to the last SBIR reauthorization in December 2000. Senate and House Committees held at least five hearings and roundtables on SBIR reauthorization as follows:
| | |
| --- | --- |
| 4 June 1998 | Senate Committee on Small Business |
| 21 April 1999 | Senate Committee on Small Business |
| 27 May 1999 | House Committee on Small Business |
| 17 Jun 1999 | House Science Committee |
| 4 Aug 1999 | Senate Committee on Small Business |
Congress used these hearings and roundtables in crafting the 2000 SBIR reauthorization, which included creation of the popular Federal and State Technology (FAST) Partnerships Program. Yet there have been no hearings or opportunity for public comment on S.2384 and H.R. 4149. Ironically, Senator Kit Bond (R-MO) who carefully guided the SBIR Program through hearings and final reauthorization in 1999-2000 as Chairman of the Senate Committee on Small Business is now leading the effort to push into law access to SBIR resources for venture capitalists and other investment groups without even a hint of sunshine through an open hearing and/or public comment process. We must stop this effort, at least until congress hears from a broad cross section of small businesses on the issues.
Largely lost in the clamor to pass S.2384 and H.R.4149 is the fact that large businesses (including venture capital groups) can own up to 50% of a small business, and the small business is still eligible for SBIR competition (so long as the small business is not controlled by the large business - e.g, through the board of directors).
Under the current SBA SBIR Policy Directive, subsidiaries are not eligible for SBIR competition. However, SBA has proposed a rule change that would provide SBIR eligibility for subsidiaries of SBIR eligible parents. This rule change would enable SBIR eligibility for small businesses that are owned/controlled by venture capital or other investment groups that meet the SBA SBIR eligibility size standards.
Allowing large venture capital and other investment groups access to SBIR resources through the passage of S.2384 and H.R.4149 would be particularly harmful to small businesses in rural states, and other regions with little or no venture capital or other investment group activity. Rural state small businesses have struggled to capture a reasonable share of SBIR resources under present rules. Enacting S.2384 and H.R.4149 will put these small businesses at an even greater disadvantage, and surely reduce their already low level of participation in the program.
There is overwhelming opposition to S.2384 and H.R.4149 among small businesses, academia and angel investors throughout the country. Several months ago, the SBIR Gateway held a forum on the issue, and responding small businesses were opposed to VC access to SBIR resources by 78%. In public meetings, informal polls have shown similar opposition. Biotechnology small business associates in Massachusetts tell us that even in that hotbed of biotech and VC activity, most small businesses oppose S.2384 and H.R.4149.
The long-term integrity and health of the SBIR Program requires that we stop S.2384 and H.R.4149. Don't let congress allow big businesses to access precious SBIR resources, and thereby limit availability of SBIR funds for legitimate small businesses. Instead, perhaps congress could find ways to encourage the venture capital and investment communities to support small businesses and the SBIR Program through financial participation in Phase 3 commercialization, and even in Phase 2 projects on a minority ownership basis!!!

---
Dr. Chris Busch offers his views from the unique perspective of having founded Spectron Development Laboratories, Inc., a successful small business located in Costa Mesa, California. Spectron won many SBIR awards, which helped the company grow to 100 employees. Under Busch's leadership, Spectron became an attractive company for a large business to acquire and thus was sold to Titan Corporation. Busch continued to run Spectron for 5 years, and as president, guided the company to new heights in spite of no longer being eligible for SBIR.
In addition to being an SBIR award winner, Dr. Busch has also served on SBIR agency advisory committees, as well as giving testimony to Congress on several occasions, during which he was a strong proponent for the development of the SBA's Federal State Technology Partnership Program (FAST). Dr. Busch was a pioneer for SBIR rural outreach programs and has assisted countless small businesses in procuring SBIR awards.
Copyright © 2004 Zyn Systems. All rights reserved.