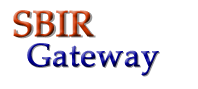 State &amp Regional SBIR Newsletters From SBIR Affiliates

This page of the Zyn SBIR Gateway web site features SBIR newsletters from various State and Regional SBIR affililiates. Submissions from qualified SBIR affililiates may be made by e-mail to

[email protected]

or you can reach us by phone at: (360) 681-4123.
Current Newsletters Available:

Alaska - The Technology Research and Development Center of Alaska

Arkansas Innovate Newsletter - Arkansas Small Business Development Center

Idaho - University of Idaho

Indiana University - Industrial Research Liaison Program SBIR Newsletter

Kansas Technology Enterprise Corporation (KTEC) SBIR Newsletter

Oklahoma (OCAST) SBIR/STTR Newsletter

Mississippi - Federal and State Technology Partnership Program News

Montana SBIR News

North Carolina SBTDC Newsletter

SBIR/STTR Alerting Service - From Pacific Northwest National Laboratory

State Science & Technology Institute - SSTI Weekly Digest
Updated 8-26-02
Copyright © 2002 Zyn Systems. All rights reserved.