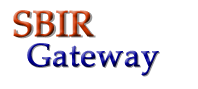 SBIR Gateway News
Proposed NIST SBIR TOPICS for FY-2008
September 20, 2007


Efficient Low-Dark-Count Detector for Photon Counting
Multiple Polytype SiC Nanowire Fabrication Process and Equipment Development
Data Management and Visualization Techniques for Improving Cyber Security
Quantitative Network Security Analysis High Power
Mid-Infrared Fiber Supercontinuum Light Source
Digital Signal Processing for 1 to 10 MHz X-ray Event Streams High Spectral Purity
Millimeter-Wavelength (W-band) Oscillator
Contactless Conductivity Detector for Temperature Gradient Focusing
Resistance Bridges for High-Accuracy Thermometry
Compact, Frequency-Stable,and Efficient High-Power Laser Sources
One PicoTesla Magnetic Field Detection by Magnetoresistive Sensors for Homeland Security
U.S. Extreme Extratropical and Thunderstorm Wind Climatology
Validation tools for OWL Based Supply Chain Integration
Shortwave Infrared Camera for Thermal Imaging
Barrier Fabrics for Fire Safe Furniture and Mattresses
Innovative Fire Measurements
Cryogenics for Kilopixel Sensor Arrays
Digital Pulse Processing for Multiplexed Microcalorimeter Arrays
Enacting Workflow using Role Based Access Control
Massively Parallel High Temperature Probe Card for Wafer-Level Reliability Testing
Multiple Contact Nano-Probes for GHz to THz Electrical and Optical Characterization
Time Synchronization of Wireless Sensor Networks
Wavelength Conversion Single-Photon-Detector for Telecom Wavelength Transmission
Broadband Reflective Optical Coatings with Tailored Dispersion
High-Resolution Solid Etalon Spectral Dispersers
High-Bandwidth
Low-Noise Photodetectors for Precise Timing
Elevated Temperature Quartz Crystal Microbalances for Nanoanalysis
Innovative Residential Fire Detection
Multijunction Thermal Converters for Precision Radio-Frequency Metrology
Perfect Quantum Efficiency Matched Pair Photodiodes
Low-Loss in-Fiber Optical filter at 860 nm
3D Laser Interferometer for Nanometrology.
Copyright © 2007 Zyn Systems. All rights reserved.