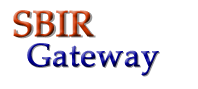 SBIR Gateway Bulletin
NIH SBIR 2008-1 Contracts Presolicitation
July 17, 2007


The following are proposed topic areas for the NIH 2008-1 SBIR Contracts Solicitation.
National Institutes of Health
National Cancer Institute (NCI)
Antibody Array For Cancer
Biosensors for Early Cancer Detection And Risk Assessment
Novel And Improved Methods To Measure Cancer Epigenetic Biomarkers
Integrating Patient-Reported Outcomes In Hospice And Palliative Care Practices
Portable E-Technology Tools for Real-Time Energy Balance Research
Patient-Centered Coordinated Cancer Care System
System To Analyze And Support Biomarker Research And Development Strategies
Biopsy Instruments And Devices That Preserve Molecular Profiles In Tumors
Development of Molecular Pharmacodynamic Assays for Targeted Therapies
Development of Anticancer Agents
Nanotechnology Imaging And Sensing Platforms for Improved Diagnosis of Cancer
Multifunctional Therapeutics Based On Nanotechnology
Advances In Protein Expression of Post-Translationally Modified Cancer Related Proteins
Development of Clinical Quantitative Multiplex High-Throughput Mass Spectrometric Immunoassay for Detecting Low Abundance Cancer Related Proteins/Peptides In Bodily Fluids
High Throughput Assays for Isolation and Characterization of Cancer Stem Cells
Assay Systems for Drug Efficacy in Cancer Stem Cells.
National Heart, Lung, And Blood Institute (NHLBI)
Production of Generic Modified Hemoglobin
Aged Animal Resources for Cardiovascular Disease Research
Nanoprobes for Non-Invasive Detection of Atherosclerotic Plaques
Cardiovascular, Lung, And Blood Computational Model Library
Refinement and Standardization of a Parvovirus B19 Vaccine
Development of Pathogen Inactivation Technologies for Blood Components.
National Institute On Alcohol Abuse And Alcoholism (NIAAA)
Alcohol Biosensors and Data Analysis Systems
Biomarkers for Alcohol-Induced Disorders
Medications Development to Treat Alcohol Use Disorders and Alcohol Related Medical Disorders
Development of Methodology for Measuring and Enhancing Compliance for Medications.
National Institute On Drug Abuse (NIDA)
Develop a Real-Time fMRI Feedback System that Allows Drug Abusers to Control their Cravings and Urges and/or Increase their Self-Control of their Drug Taking
Design and Synthesis of Treatment Agents for Drug Abuse
Development of Website Training on Addiction Medicine for Pain Management Providers
Development of Web-based Skills Training for Primary Care Physicians on Screening, Brief Intervention, Referral and Treatment
Drug Abuse Screening, Assessment, Patient-Treatment Matching Technologies for Use in Primary Care
Tools to Measure Intervention Costs, Cost Effectiveness, and Net Economic Benefits
Development of Nanoscience-based Probes, Delivery Systems, and Therapies for Substance Use Disorders
Discovery and Study of Psychoactive Components of Botanicals.
National Institute Of Mental Health (NIMH)
Development and Evaluation of Tools to Enhance the Dissemination of Educational Information Intended Specifically for Autism Caregivers
Multi-Media Training for Social Workers in Evidence-Based Mental Health Practices and Psychotherapies.
Centers For Disease Control And Prevention (CDC)
National Center On Birth Defects And Developmental Disabilities (NCBDDD)
Maximize Quality and Quantity of DNA from Mailed Cytobrushes.
Coordinating Office For Terrorism Preparedness And Emergency Response (COTPER)
Environmental Monitoring Systems for Forward Placed Assets.
Immunization Safety Office (ISO)
Novel or Enhanced Methods for Vaccination via the Respiratory Tract
Novel or Enhanced Methods for Cutaneous Vaccination
Novel or Enhanced Methods for Vaccination by Jet Injection.
Copyright © 2007 Zyn Systems. All rights reserved.