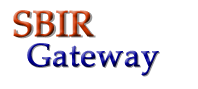 SBIR Insider Newsletter
June 16, 2011

Dear SBIR Insider,
I'm glad to report there are no current emergencies but there are several important issues to address and some good news to report to many DoD SBIR selectees.
Political issues surrounding SBIR continue to remain important and relevant to our conversations until/if SBIR reauthorization is realized. Check your party affiliations at the door, because the SBIR Insider takes no prisoners.
In this issue:
Explanation of the SBIR/STTR/Extension
There has been some confusion about the SBIR extension, but you can take this one to the bank: SBIR/STTR/CPP have been extended "as is" through September 30, 2011 (the end of fiscal year 2011). This was accomplished via S.1082 that became Law PL. 112-17. However, there were some other SBA programs in the bill that were only extended through July 31 and this became a point of confusion for the legislatively uninitiated.

As an example of law making, let's pretend we want to pass a law stating that all people wanting to go to the White House must cross Pennsylvania Ave at 17th Street. In legislative speak we might express the point of crossing the street in exact geographic coordinates rather than street names (e.g., Latitude: 38° 53' 55.133" N, Longitude: 77° 02' 15.691" W). This would allow an exact legal explanation of the law we just passed.

In reality, extending SBIR, STTR and CPP required changing 3 dates in the legislation 15 U.S.C. § 638 of the US Code. Unless you pulled up the code, you wouldn't know what the effect of the change really was. One line of the extension read: " (15 U.S.C. 638(m)) is amended-- by striking '2008' and inserting '2011'"

I'm sorry to burden you with that explanation but we received over 200 emails from our readers telling us that we were in error of the extended SBIR dates, but in fact, they weren't aware of how to read legislation. Following legislation is not for the faint of heart.
The Story Behind the Battle for the S.1082 SBIR Extension

We heard from quite a few readers who felt that too many of us were like "Chicken Little" claiming "the sky was falling" because the overall vote for the SBIR extension was overwhelmingly in favor of passage. I can attest with certitude (thank you Mr. Weiner even though you voted against the extension), that nothing could be further from the truth.

Most of you had little or no idea how bad things were looking for the passage of S.1082 in House. Passage would require a 2/3 majority vote and the House Small Business Committee Ranking Member Nydia Velazquez (D-NY) was urging her fellow democrats to vote against the bill! Some insiders factored that at least 60 Democrats were needed to vote for the bill, and that would be tough considering Velazquez's appeal to her party to vote down the bill. It is not very often that a party will vote against their own committee chair (or ranking member).

It was crucial to get the democratic party leadership to recommend voting against Velazquez. However, an extraordinary event happened as many of you contacted your congressionals, both individually and collectively (via national organizations such as SBTC, NSBA and SBBC, as well as various state organizations such as the Bay Area Innovation Alliance, the New England Innovation Alliance, SBANE and Small Business California).

Consequently several important democratic leaders came on board supporting passage, including minority leader Nancy Pelosi, and minority whip Steny Hoyer. Democratic representatives who are SBIR champions, wrote a very important Dear Colleague letter in support of the extension. Lead by Niki Tsongas (MA), signatures included Ed Markey (MA), Peter Welch (VT), Gerald Connolly (VA), Paul Tonko (NY), Joe Courtney (CT) and Mazie K. Hirono (HI).

The Republicans were already on board to support the bill as Small Business Committee Chair Sam Graves (R-MO) urged passage. The result was only 22 Democrats and 11 Republicans voted against the bill with a final vote of 387 to 33.

The SBIR Insider received a letter from a senior level House republican staffer who was amazed at the way the democrats "rolled" Velazquez in the passage of the bill S.1082. The staffer stated:

I don't know how much you can emphasize this but the passage of the SBIR extension is a stunning rebuke to Velazquez. Usually, Members look to guidance to the party leader of each respective committee to determine how to vote on a particular measure. They usually defer to the committee expert on the matter. For Democrats to reject a recommendation from the ranking Member of a committee is enormous, particularly because of her usual operating style (threats) and extra sensitivity to minority Members.

Remember those words if the SBIR community has to go after Velazquez and/or Sam Graves. It will be tough, and many of our Ohio small businesses (especially those in Boehner's district, and even Chabot's district) will have to make their voices heard. This is also true of Majority leader Cantor's district.

Unlike Pelosi, where it would almost take an act of God to unseat her, Boehner is aware that the same is not true for him (he saw his friend and neighbor Steve Chabot get bounced out of Congress in 2008). We have seen Boehner vote against Graves in some previous small business legislation, and unlike Graves, Boehner was always on the side of small business. Let's hope he stays there.

As for the success of the extension, getting the word out to you for a call to action was a collaborative effort by many organizations, of which your SBIR Insider was but one. The credit for the extension goes to all of you who became proactive.

Don't get too comfortable because there are other issues coming down the SBIR pike very soon.
June 21 National Academies Symposium on "NASA's SBIR Community"

Here is a very important opportunity for NASA SBIR centric organizations, taking place next Tuesday, June 21, 2011 in DC. Speakers include Senator Mary Landrieu; Robert Braun, Chief Technologist, NASA; Karen Mills, SBA; Jacques Gansler, University of Maryland; David Miller MIT; Joseph Parrish, NASA and many more.

Space is limited and time is short. Below is an invitation from Dr. Charles Wessner, Director, Technology, Innovation, and Entrepreneurship, The National Academies:

Dear Colleague,

On behalf of the National Academies, I would like to invite you to attend the National Academies symposium on NASA's SBIR Community: Opportunities and Challenges on 21 June 2011 in Washington, DC.

The symposium is being held under the auspices of the second phase of the National Academies' study of the Small Business Innovation Research program, led by Dr. Jacques Gansler of the University of Maryland, formerly Under Secretary of Defense for Acquisition, Technology, and Logistics. The event will focus on achievements and challenges of the NASA SBIR Program, challenges for small business in the NASA space, the university­SBIR/STTR connection, and connecting the mission directorates and primes to SBIR.

The symposium will take place in Room 100 of the National Academies Keck Center, 500 5th Street, NW, Washington DC, on Tuesday, 21 June 2011, beginning at 9:00AM and concluding at approximately 5:00PM, followed by a reception. The draft agenda is attached.

We hope you will be able to join us for this timely, informative, and policy-relevant event. Please register your attendance by responding to David Dierksheide at [email protected]

Best regards,

Charles Wessner

Charles W. Wessner, Ph.D.
Director, Technology, Innovation, and Entrepreneurship
The National Academies
500 5th Street, NW
Keck 573
Washington, DC 20001
DoD FY-2011 SBIR Funding & Navy Under Secretary Robert O. Work

For the past several months we have been hearing from small businesses who have submitted proposals to the DoD SBIR program. Many companies reported that the agencies selected their proposals for award BUT there was no money in the pipeline to make the award, so the companies were asked to wait.

At the recent Navy Opportunity Forum in Arlington VA, the SBIR Insider had an opportunity to talk with Robert O Work, Under Secretary of the Navy, about the FY-2011 funding issues and how it related to SBIR. We referenced the scenario mentioned above along with our picture of the funding being turned back on but not getting to the small businesses in SBIR. Under Secretary Work answered:

"It's a major problem everywhere. This was a very very long CR, a lot longer than expected. We had to do a lot of things that were inefficient. We are just now.. we are behind in our outlays.. Everything just kind of backed up because we were deathly afraid that the CR was going to continue and we had to maintain cash to make sure that we could finish out the fiscal year. So as a result of that we made a lot of small decisions all of which were inefficient, and were now trying to catch up on that, and we're getting caught up now but it did take some time."

In talking with several SBIR companies, we learned that Under Secretary Work's statement of "we're getting caught up now" seemed to be accurate, as the funding was once again flowing, but perhaps not as strongly as some would like.

Under Secretary Work was very impressed with the Navy Opportunity Forum, the turnout and the overall Navy SBIR program. His keynote presentation was very informative, while being entertaining, and it was very well received by the attendees comprised of advanced phase II companies, prime contractors, PEOs and the Navy acquisition community.
Senate Suffers from SBIR Reauthorization Fatigue

The Senate has been working on SBIR reauthorization and compromises thereto since 2005. We are now in our 12th continuing resolution (CR) extender since the program officially was to expire in 2008 and we are no closer to resolution.

The temperature we took of the Senate suggests to us that the Senate will not accept another CR to extend the program. It is likely that either a full reauthorization must be reached with the House, or the program will expire at midnight, September 30, 2011.

Never in the history of the SBIR program have we seen as viscous and protracted battles as we've witnessed in the last six years. The Senate's Small Business Committee (SBE) has seen two of their SBIR bills that were passed by the entire Senate, only to get those bills hijacked by issues considered to be more important, i.e., "Don't ask don't tell" repeal and the "Patriot Act" extension.

In this 112th congress we saw an SBIR Reauthorization bill take weeks of valuable floor time in the full Senate, only to watch it collapse under the weight of almost 200 unrelated amendments. This helped to create a chasm between SBE chair Mary Landrieu and ranking member Olympia Snowe (not to mention the tension between Snowe and majority leader Harry Reid).

Ultimately Snowe was not allowed to offer her regulatory amendment to the SBIR bill and she withheld support for the SBIR bill, and Reid pulled the bill, resulting in no Senate SBIR Reauthorization vote. Last week Snowe's regulatory amendment was voted on as part of another bill and it failed (largely along party lines).

Both Snowe and Landrieu are SBIR champions (Snowe going back to the beginning of the program). It is evident that the SBIR community will once again have to step up to the plate to battle for the program. We'll keep you informed.
Update on House SBIR Reauthorization Bill H.R. 1425

The update on H.R. 1425 is that there is nothing to update. The bill marked up in the House Science Committee on May 4, 2011 and by the House Small Business Committee May 11, 2011, has been stagnate since a batch of amendments were added back in May.

A particularly dangerous amendment (#13) offered in the House Small Business Committee by Nydia Velazquez (who else??) seeks to penalize successful small SBIR businesses by limiting the amount of award dollars a company can make, in relation to states with little SBIR award business. Yes this amendment was passed in the committee by voice vote!

Of course, Ms. Velazquez is perfectly content with allowing up to 100% of the SBIR program to be assumed by companies owned by large VCs, hedge funds, and private equity firms.

When action resumes on H.R. 1425, be ready to fight for your program because there are powerful legislators (on both sides of the aisle) who are more than happy to ignore the compromises the Senate has made with BIO and NVCA, in order to give their Wall street benefactors majority control of the SBIR program. Don't expect BIO or NVCA to look a gift horse in the mouth. After all, they paid for it!
BIO Advertises for a New Senior Director of Federal Relations

Normally we wouldn't burden you with a story like this, but it does help to demonstrate the tremendous effort of a large lobbying machine to get their way.

Although a few small businesses are able to visit their lawmakers to educate them on SBIR, and a few groups such as SBTC has a staffer to lobby congress on your behalf, and also support fly-ins to help you visit your law makers, these efforts are small potatoes next to BIO and NVCA, who not only contribute large amounts of money, but frequently cover the Hill with their lobbyists.

Bio recently took out an advertisement in the Hill Newspaper for a Senior Director, Federal Government Relations. The BIO ad states as the primary purpose of the position: " This position would oversee lobbying for ECS issues that cross-cut with Health issues, such as SBIR.

It goes on to include the statement: " Oversee the team of lobbyists working ECS issues that crosscut with health issues, such as SBIR." Did you catch that? It said "TEAM OF LOBBYISTS"

The SBIR Insider has told you for years that teams of BIO/NVCA lobbyists are working the Hill full time to promote their Wall street agenda for taking over small business programs. Past Small Business Committee Chair Donald Manzullo (R-IL) described in detail his concerns of the VC pressure working against small business. He spent a great deal of time trying to work out compromises, but to no avail.

It's for reasons such as this that your SBIR Insider tries to keep you informed of relevant SBIR items you won't see in the main stream news media.

Keep in mind that the number one roadblock to SBIR reauthorization has been, and continues to be BIO and NVCA's actions on lobbying and buying influence to make SBIR a Wall street funding program.
Sorry to have been so political but these are the main issues in SBIR at the moment.

Thanks for your time and I look forward to hearing from you. Please remember that it does take me some time to get back to you because of the sheer volume of mail, but I'll always try.
Sincerely,

Rick

Rick Shindell
SBIR Gateway
Zyn Systems
40 Alderwood Dr.
Sequim, WA 98382
360-681-4123
[email protected]
www.zyn.com/sbir


Do you want to be an SBIR Insider and receive Zyn's SBIR Gateway Insider Newsletter? It's free and we will not spam or share your email address with anyone.
Email addresses will remain private and will not be shared.