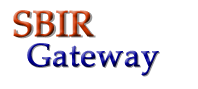 The SBIR Gateway is a free service provided to the SBIR/STTR community by Zyn Systems. Zyn Systems accepts no outside funding (including government contracts, sponsorships or private sector advertising) for the SBIR Gateway.
The SBIR Gateway is used by thousands daily for news and locating opportunities within the SBIR community. Although we are privileged to be of service to Federal and State Governments, our primary focus is on the Small Businesses who participate in making their business and the SBIR/STTR programs a success.
We respect your right of privacy and do not share your email addresses with any organization.
If you find the SBIR Gateway helpful, please let us and others know. We welcome your comments.
Sincerely,
Rick Shindell
President
Zyn Systems
P.O. Box 3057
Sequim, WA 98382
Phone: 360-681-4123
Email: [email protected]