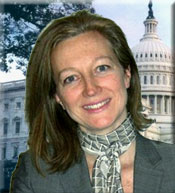 Ms. Kevin Wheeler
Most Insiders agree that over the last decade, nobody has worked harder and has been more dedicated to the preservation, protection and growth of the SBIR program than Ms. Kevin Wheeler, Deputy Democratic Staff Director for the Senate Committee on Small Business & Entrepreneurship (SBE).
Ms. Wheeler's name is not well known to the SBIR community at large because much of her work is behind the scenes and she always gives the credit to her boss, Senator John F. Kerry (D-MA) the SBE committee chair, as well as other members of the committee staff, and outside SBIR advocates.
Wheeler came on board with the SBE Committee in 1998 as part of their professional staff and played an important role in the SBIR reauthorization of 2000. She has been an integral part of SBIR/STTR ever since.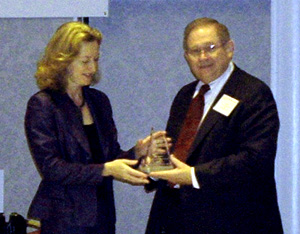 Kevin Wheeler receiving a special 2006 SBIR Tibbetts Award from Jere Glover

The 2008 SBIR reauthorization attempt was considered by many to be the most contentious and outrageous effort in SBIR history. The House passed an SBIR bill on to the Senate that was so loaded with special interests that it threatened the integrity of the program.

With the support of Senator Kerry and his staff director, Naomi Baum, Wheeler set forth a Herculean effort to construct a new SBIR reauthorization bill with reasonable compromises to protect the small businesses and preserve the intent of the program. Unfortunately, one Senator was successful in blocking the overall reauthorization attempt, but Wheeler's work will be an excellent blueprint for reauthorization in the next Congress.

According to Jere Glover, Executive Director of the Small Business Technology Council (and former SBA Chief Counsel for Advocacy), "Every time there has been a challenge involving SBIR/STTR reauthorization, Kevin has not only been in the room, but she has been the brightest, strongest voice in the room. She was critical in the 2000 SBIR reauthorization, the STTR reauthorization as well as the DoD's Commercialization Pilot Program (CPP) and absolutely critical to the
March 20, 2009 extension."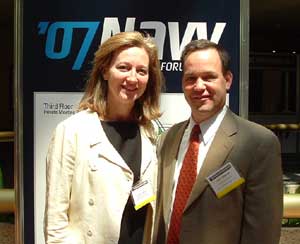 Wheeler with Navy SBIR Program Manager John Williams at the Navy Opportunity Forum
Another well known powerful and respected presence in the SBIR community is David Metzger, of Arnold & Porter LLP who offered comments about Kevin earlier this year: "At various times, in the history of SBIR, individuals have stood up and been counted in the perilous process of passing and re-authorizing SBIR. Early, giants like Roland Tibbetts, Milt Stewart, and John Sataja played significant roles. In 2000, Kit Bond, Senator Kerry, and Jere Glover were there when needed. This time however, with all due respect to these senators, Kevin Wheeler stood and delivered. We now have a bill around which we can rally and for which we can fight. This bill, and these compromises, had to be conceptualized, drafted, presented, re-drafted and defended. At the most technical level, we know that senators do not do the hard technical work. Kevin did. Kevin was there when we needed her. She's done what we needed. It is up to us now to rally, to take up the fight, and get this bill passed. And if the SBIR community has to make compromises, Kevin has shown us how to do that too, and the necessity for it.....The favor I ask is: Thank Kevin for being there."
Of course Kevin Wheeler's job was made somewhat easier by the fact that she was working for one of the greatest small business champions, John Kerry. Wheeler would on occasion "coax" the Senator into being a speaker at some important SBIR events, of which Kerry was more than happy to do if time was available.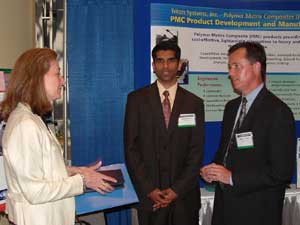 Wheeler talks to small businesses at the Navy Opportunity Forum
One of Wheeler's most important roles behind the scenes was to keep Senator Kerry informed and engaged in SBIR. Anyone watching or participating in an SBE SBIR hearing knew that Kerry was not only up-to-date, but also in command of the facts.
Ms. Wheeler is equally at home talking with major power brokers or the tiniest small businesses. She has a thirst to get a full perspective on issues prior to taking action on them. One would be hard pressed to find a harder working, more capable and dedicated public servant than Kevin Wheeler, our 2008 SBIR Person of the Year.









Copyright © 2008 Zyn Systems. All rights reserved.